Bachelor of Nursing (Full-time)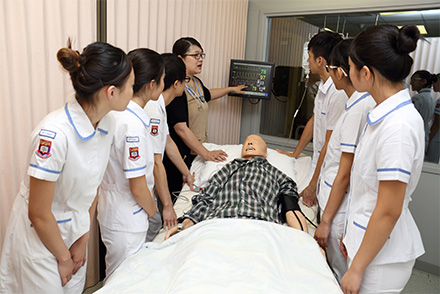 Bachelor of Nursing Full-Time Programme
JUPAS (Code: 6468)
NON- JUPAS
Direct Admissions Scheme (DAS) for Senior Year Place
Award

The Bachelor of Nursing (BNurs) is a five-year full time programme leading to the award of Bachelor of Nursing (Honours) Degree from the University of Hong Kong.

Mode and Duration of Study

5 years full-time, credit based
For JUPAS Applicants
For Non-JUPAS Applicants
HKU Nursing provides interdisciplinary learning opportunities - not only are our students required to take 36 credits (6 courses) of Common Core Courses in different Areas of Inquiry, they also have the opportunities to broaden their learning experience by joining our medical students in specialized Patient-Care Project, etc.

HKU Nursing delivers quality teaching - our programme focuses on the whole spectrum of nursing knowledge and prepares our students as competent nursing professionals.

HKU Nursing nurtures nursing leaders with an international outlook - our exchange opportunities with renowned Universities worldwide equip students with valuable experiences in different nursing care settings.

HKU has strong links with international top schools of nursing in academic exchanges and research collaboration. Students are provided with sponsorships to participate in

overseas exchange programme

. They have opportunities to study in the top overseas Universities for 2-4 weeks such as University of Pennsylvania and Case Western Reserve University.
For JUPAS Applicants

Candidates for admission shall satisfy the following minimum requirements in HKDSE:

Level 3 in Chinese Language and English Language
Level 2 in Mathematics* and Liberal Studies
Level 3 in two elective subjects

* excluding Mathematics Extended Modules 1 and 2
---
The School of Nursing will provide the Biology Enrichment course to support students without science background.
All applicants, both local and overseas, are required to have a good working knowledge of Cantonese and English by the time of admission to the programme.
The Bachelor of Nursing programme comprises 45 courses undertaken over five years and prepares students for registration as general registered nurses with the Nursing Council of Hong Kong. The programme includes six common core courses, twenty-eight core courses, seven practicum courses, three language courses and one elective course. Students engage in both classroom and experiential learning which is facilitated by highly experienced and knowledgeable nursing academics and teachers and is supported by excellent classroom and laboratory facilities. Theory is integrated into practice and consolidated through the learning which occurs in a variety of healthcare environments. The programme prepares graduates to achieve professional excellence in comprehensive and holistic nursing practice across a range of clinical settings.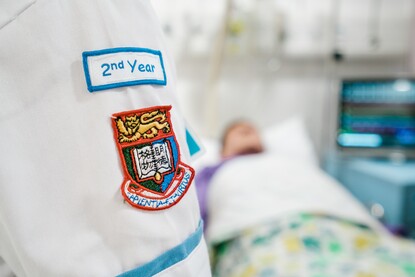 The programme emphasises clinical practice. Students have the opportunity to learn and practise under the instruction and supervision of experienced teachers in all aspects of nursing - from basic to advanced complex care, in community and in top teaching hospitals, such as the Queen Mary Hospital. Clinical practicum is arranged in blocks of practice to allow students to consolidate the nursing themes and skills. Clinical placements are arranged in:
Community Centres;
Aged care Centres;
Outpatient clinics; and
Specialties in hospitals, including Medical and Surgical Units, Paediatrics Unit, Obstetrics Unit, Accident and Emergency Unit, Operation Theatre, and many more.
Nurses, as professionals, should be fully equipped to encompass both the art and science of nursing. Besides adequate knowledge in the biological sciences, nurses should also have compassion for the mankind and an in-depth understanding of the humanity.
Nurses of today should be curious, open to new ideas, and tolerant of uncertainty and ambiguity. They need to understand, appreciate, and use diversified methods to enhance the health of individuals and the community, and be able to convert theoretical knowledge into practice. Nurses should provide expert client care, and be able to work effectively with clients, other nurses and professionals to promote, maintain and restore human health, and to translate experience into policies and practices for the wellbeing of mankind.
The Bachelor of Nursing curriculum prepares students to acquire the essential knowledge and skills to function competently in meeting the health care needs of the human world. Graduates will be able to pursue careers as professional nurses in clinical practice, research, education and/or management.
---
Graduates who have satisfactorily completed all programme requirements will be eligible for direct registration as registered nurses with the Nursing Council of Hong Kong.
Interviews are designed to assess the applicants' suitability for the programme, and will take into account their motivation, aptitude, communication skills and general social awareness.
JUPAS applicants may be selected for an interview to be held in May/June/July.
Non-JUPAS applicants may be selected for an interview to be held in January/February/April/June.

G14, Ground Floor, Main Building, HKU

School of Nursing

4/F, William WM Mong Block
21 Sassoon Road
Hong Kong
*This information has been translated into Chinese. If there is any inconsistency or ambiguity between the English version and the Chinese version, the English version shall prevail.