Master of Nursing Programme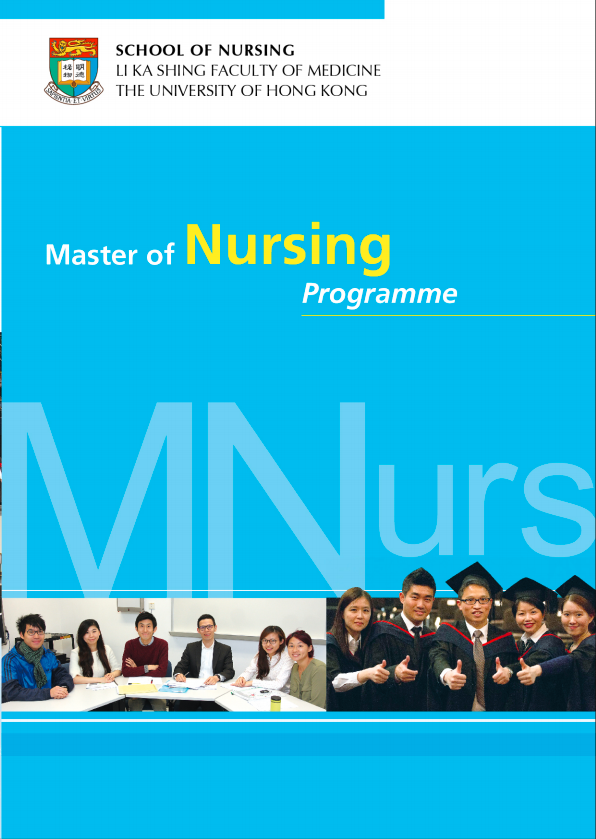 Programme Overview

The Master of Nursing (MNurs) programme provides opportunities for nurse graduates to prepare for advanced practice nursing in keeping with the rapid changes in health care in Hong Kong.

Study mode and duration

The Master of Nursing Programme offers a part-time study mode, which consists of six semesters spread across two academic years which begin in September each year.
The programme consists of 3 compulsory core courses (18 credits), 3 track core courses (18 credits), 3 elective courses (18 credits) and a capstone experience which includes a Translational Nursing Research course (6 credits) and a Dissertation (9 credits), making a total of 69 credits. The assessment is based on a combination of practical examinations/tests (0-60%) and continuous assessments (40-100%). Candidates are also required to submit a dissertation to the satisfaction of the examiner(s).
A variety of teaching and learning methods will be employed to provide the best learning environment for students. Examples of teaching and learning methods are lectures, seminars, tutorials, problem-based learning (PBL) and clinical work.
Students may join one* of the following tracks:
Advanced Surgical Nursing
Critical Care Nursing
Health Care Management and Leadership#
Infection Control
Paediatric Nursing
Primary Health Care Nursing
Community and Public Health Nursing#
Women's Health
* Tracks are offered only if there are a viable number of students selecting that track
# Subject to University's approval
A study track will only be offered upon sufficient registration. Tracks in bold fonts are offered in 2018-2019.
Further information on the programme can be found in the programme's Regulations and Syllabuses. (Note: not all elective courses on the syllabuses will be offered in any given year, it is subjected to the availability of teaching resources and sufficient interest in the course.)
To be eligible for admission to the curriculum leading to the degree of Master of Nursing, candidates shall:
comply with the General Regulations; and
comply with the Regulations for Taught Postgraduate Curricula; and
be a Registered Nurse holding a Bachelor's degree in nursing from this University, or from another university, or comparable institution accepted for this purpose; and
be eligible for active nursing registration with the Nursing Council of Hong Kong, or its equivalent; and
satisfy the examiners in a qualifying examination if required.
The BL Wong Prize in Nursing Studies (Master of Nursing) and the Lau Wing Kai Memorial Prizes have been established for awarding students who have outstanding performance in the Master of Nursing programme.
1st Session

| | |
| --- | --- |
| Date: | January 2019 (exact date TBC) |
| Time: | TBC |
| Venue: | TBC |

2nd Session

| | |
| --- | --- |
| Date: | February 2019 (exact date TBC) |
| Time: | TBC |
| Venue: | TBC |
*This information has been translated into Chinese. If there is any inconsistency or ambiguity between the English version and the Chinese version, the English version shall prevail.