Doctor of Nursing Programme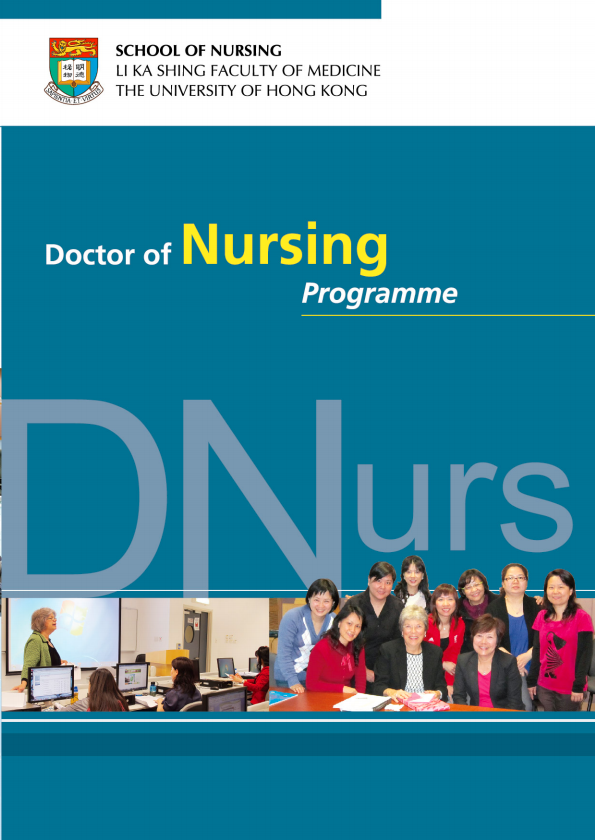 Programme Overview

The DNurs programme is designed for nurses who aspire to provide leadership in advancing nursing practice, education and research.

Study mode and duration

Part-time 4 years
Students begin their studies in September. The programme includes four core modules (26 contact hours per module totalling 104 contact hours), three track modules (26 contact hours per module totalling 78 contact hours), a module on Research Ethics (12 contact hours) and a thesis (104 contact hours).
Core Modules:
NURS6001 Scientific Progress in Nursing
NURS6002 Advanced Quantitative Research Designs and Methods
NURS6003 Naturalistic and Interpretive Approaches to Nursing Research
NURS6004 Health Policy for Advocacy in Health Care
Research Ethics Modules:
GRSC6031 Research Ethics for Graduate Students
Track Modules:
Educational Leadership Track Modules:

NURS6005 Introduction to Clinical and Classroom Teaching in Nursing
NURS6006 Curriculum Planning and Development
NURS6007 Assessment and Evaluation


Clinical Leadership Track Modules:

NURS6008 Advanced Practice Nurse (APN) Role Acquisition
NURS6009 Health Behavior and Health Promotion Research
NURS6010 Concepts and Methods in Health Services Research
Thesis:
Students will complete a thesis of 50,000 to 60,000 words that represents an original scientific study grounded in nursing practice/education and contains material worthy of publication. A variety of teaching and learning methods will be employed to provide the best learning environment for students. Examples of teaching and learning methods are lectures, seminars, tutorials, problem-based learning (PBL) and clinical work.
To be eligible for admission to the programme leading to the degree of Doctor of Nursing, applicants must:
comply with the General Regulations;
hold a master's degree in nursing or equivalent disciplines from this University, or a comparable university accepted for this purpose;
currently hold a Registered Nurse license;
have English proficiency as specified by the University's admission requirements; and
satisfy the application evaluators with (i) a statement of overall career goals and specific research interests and (ii) an oral justification of their suitability for doctoral education.
Two prizes shall be awarded to newly enrolled candidates who hold a bachelor's degree with 1st class honours or equivalent outstanding academic achievement; and whose research proposal (2-3 pages) has demonstrated scientific rigor. The value of each of the prizes shall be HK$30,000.
1st Session

| | |
| --- | --- |
| Date: | 23 January 2018 (Tuesday) |
| Time: | 6:30 – 7:30 pm |
| Venue: | Lecture Hall, 4/F, Duke of Windsor Social Service Building, 15 Hennessy Road, Wanchai, Hong Kong |

2nd Session

| | |
| --- | --- |
| Date: | 7 February 2018 (Wednesday) |
| Time: | 5:15 – 6:15 pm |
| Venue: | Room 406, 4/F, William MW Mong Block, 21 Sassoon Road, Pokfulam, Hong Kong |

3rd Session

| | |
| --- | --- |
| Date: | 2 March 2017 (Friday) |
| Time: | 7:00 – 8:00 pm |
| Venue: | CPD-1.24, 1/F, Run Run Shaw Tower, Centennial Campus, The University of Hong Kong |
School of Nursing

4/F, William WM Mong Block
21 Sassoon Road
Hong Kong
Application can be made online via http://www.aal.hku.hk/tpg
Closing Date for Application: 12:00nn (HKT) 30 June 2017
*This information has been translated into Chinese. If there is any inconsistency or ambiguity between the English version and the Chinese version, the English version shall prevail.